Verified By Healthcare Professionals
With the Doc Patels White Label Program, you will have access to our medical-grade CBD products that are thoroughly vetted by accredited & licensed healthcare professionals. The CBD industry is growing fast, and with hemp-based products on the rise, we verify our CBD products for consistency and potency. All while assuring every product passes all microbiological, mycotoxin, pesticide and solvent residue third-party lab testing. We offer a wide variety of white label benefits when you partner with us as well as CBD private label dropshipping services!
Bring your CBD Brand to the Next Level

Our CBD Marketing Experts
While it is true that providing the best quality CBD oil starts with our premium quality CBD-rich hemp seeds and unique CBD extraction process, the expertise and value we offer to your brand are what sets Doc Patels white labeling program apart from others.
We provide your brand with everything you need to become successful—from premium manufactured CBD products to packaging and shipping directly to you or your customers
Before you start to take off with your brand, we offer a free essential consultation to help set you up for success in this competitive industry. Get started with your consultation today for your personalized and detailed advice from the industry's leaders.
CBD White Label Program Benefits

0.00% THC Broad Spectrum CBD
World-Class Label Design Services
Access to our Expert CBD Doctor
Great Pricing on Premium Products
Unique and Patented Formulation
Third-Party Lab Test Results
CBD Dropshipping Services
Dedicated Account Specialist
Easy Ordering Process
Top Notch Customer Services
Orders Shipped within 10-14 Business Days
Educational Videos & Events
Free of GMO, Pesticides & Heavy Metals
Consistency & Safety
Gain Access To A Full-Service Digital Marketing Team & Industry Knowledge From Top Leading Healthcare Professionals
Independent, Third-Party Lab Tested:

All of the CBD white labeled products that you purchase from Doc Patels are independent, third-party lab tested. We provide all of our certifications every one of our CBD products to guarantee safety, quality, and consistency.
World-Class Customized Labeling Services:

We offer a convenient process to create your brand's labels with options to separate you from the competition. Your labels will be designed and branded as your own. For startups that haven't necessarily established their own brand, our graphic designers and marketing team are available to help create your logo and any additional marketing collateral.
Access to Our Health Practitioners:

Our team is made up of industry-leading CBD experts which consists of 30 engineers, scientists, (including 8 Ph.D.'s, 2 MD's, 2 MA's), a Psychiatrist and Dentist. Having a team of health practitioners by your side means you have access to knowledge and industry insights that no other brand could offer you. Our CBD experts have years of experience in supplying premium-quality CBD and providing confidence and trust that what you're purchasing and providing is clean and effective.
Shipping & Private Label Dropship Options:

We make sure that whenever you are ready for distribution and shipment, our team is available to expedite your shipping. If dropshipping is something you are interested in, then this is also well within our abilities.
Custom CBD White Label Packaging:

We offer custom packaging to make your brand vision a reality—from the CBD labeling to the packaging. We have packaging options you can choose from to ensure that you are satisfied with every detail of your brand's vision.
Dedicated Account Specialist:

You'll receive your own account specialist to manage all of your branding needs. Our specialists are members of a committed team with years of digital marketing and CBD experience, providing attention to detail to ensure your business is set up for success. By having a dedicated account specialist every step of the way, you'll experience highly effective communication and proper service delivery to ensure a great level of success in your CBD business.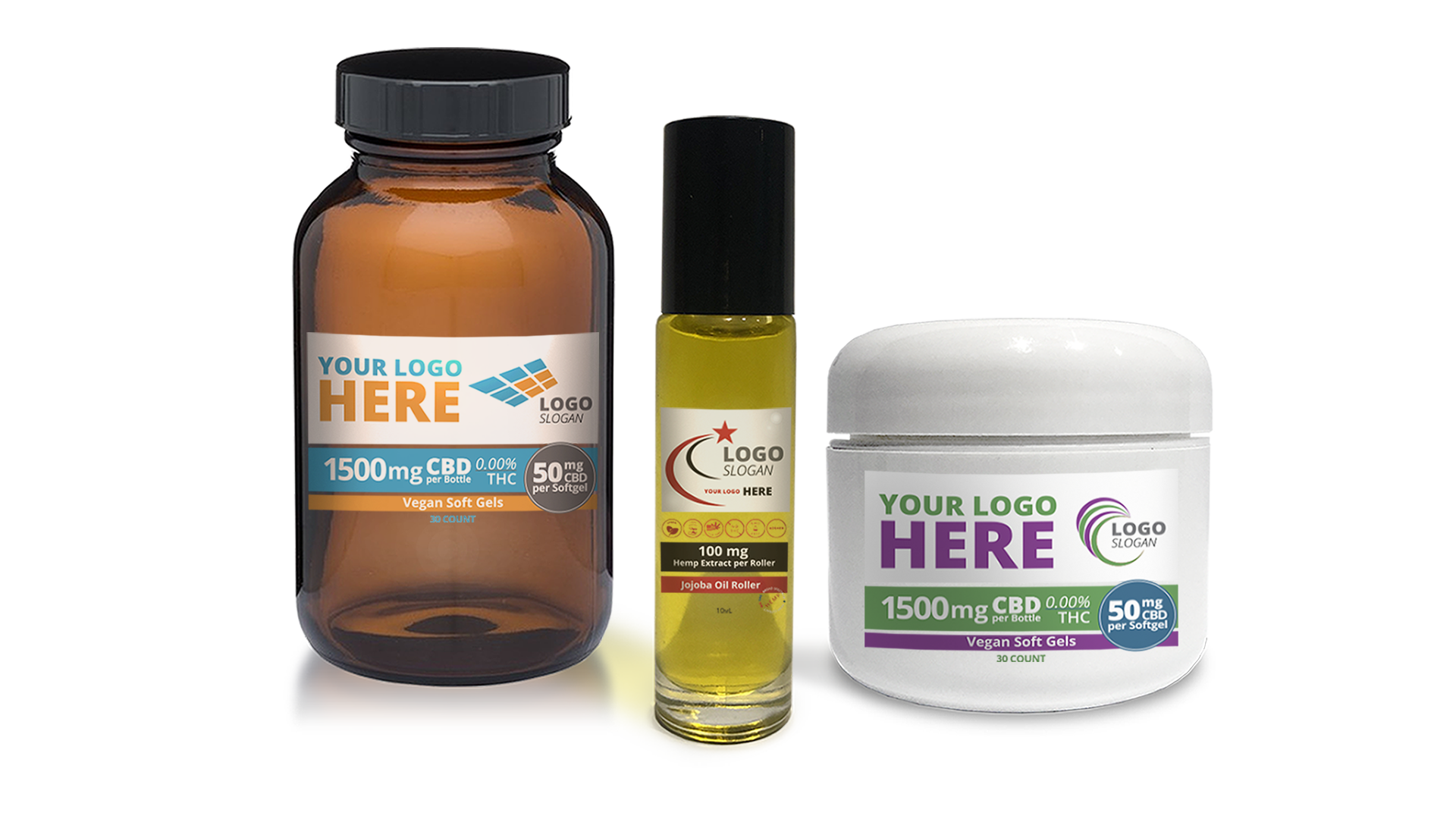 Doc Patels White Label CBD Product Options

Doc Patels is proud to supply our premium line of 0.00% THC Broad Spectrum CBD products for our white label program.
Premium CBD white label products:
CBD topicals
CBD softgels
CBD THC-free broad-spectrum oils
CBD muscle gel
CBD for pets
CBD gummies
CBD skincare and beauty products
How Does The White Label Program Work?

Doc Patels offers a fast and convenient process to get your CBD business started. You can easily become a valued white label partner today by following our simple steps:
Apply to our White label program using the form.
Submit your logo and company colors.
Doc Patels CBD Marketing & Development Services

Doc Patels offers marketing and branding solutions that are catered towards a successful CBD business. Whether you're a wholesale partner, a white label partner, or a part of our healthcare professionals program, we are available to help you develop, strategize and implement a successful marketing and branding strategy. Our team consists of CBD experts, health professionals, and a CBD marketing team with years of experience implementing successful marketing strategies. We understand the nuances involved in the CBD industry, and we make sure you invest your resources in the right places.
Doc Patels Label Design Services

Once you become a Doc Patel white label partner, you gain access into top leading CBD industry insights. You also get to work with our branding and reputation specialists to help guide you through your company's success. Last but not least, our expert graphic designers will work with you to create extraordinary labels and marketing materials for your CBD products.
In order to get started, you can easily fill out the online form to provide information about your brand. You have the option to include specific details on how you envision your labels to look, or leave it up to our graphic designers to take care of you every step of the way.
Frequently Asked White Label Label Questions

Are all of your products available through your white label CBD program?
Yes, all of our CBD products are available through our white label program.
I need help designing my labels, should I hire a graphic designer?
Nope! When you work with Doc Patels, you also have the opportunity to work with our experienced graphic designers. Our team would be more than happy to work with you to bring your brand vision to life. If you are new and need a logo and/or other brand material, look no further - we're here to help.
What is your return policy for your white label program?
Unfortunately, since these products are branded specifically for your business, we do not accept returns.
"Dr. Patel is amazing, informed and informative! What a learning experience! Her recommendations helped my mobility issues from a degenerative disease immediately and immensely. Thank you, Dr. Patel!"
Kim. K
2 APR 2018, 12:21
"Dr. Patel is awesome... she explained all of the science and best ways to benefit from the use of cannabinoids and CBD oil. An absolute pleasure to work with. Dramatic improvements to my sleep patterns."
Barry L.
15 SEP 2018, 14:42
"I have experienced anxiety & insomnia for the last year and a half and was nervous about cannabinoid medicines, but Dr. Patel answered all of my questions at great length, & I left with a confidence in choosing the right CBD product for me."
Katie S.
15 OCT 2019, 12:42